Travel ~ US Travel Center
A unique Adventure Travel Agency

BOTH ABOVE AND/ OR BELOW THE WATER:
Bonaire::Safari & Surf::North::Galapagos::Individual::Trip Updates
NEW - JUST A SAMPLING OF 2018!
Be sure to call Heather and get on the list for trips that are not announced on the web site.
Over half our group trips fill within several weeks of opening, so be sure to be on the call list!
NEWS FLASH ~ REGISTER FOR APRIL 2018 BONAIRE!

Airfare Policy:

For your convenience and to help give you a better price, US Travel frequently includes your round-trip airfare on most group trips. There are a few trips where airfare is not included. We are one of the few Dive Travel Wholesale Agencies that give you a total package - no hidden prices when you book with US Travel. If you want to us frequent flyers, we can price the trip for the land and diving portion only.
Remember that . . . US Travel is a FULL SERVICE ON PREMISES ARC/ IATAN certified Travel Wholesale Agency. We are not only convenient but can offer you the best prices available through the airlines for both group and individual travel. If your schedule does not allow you to travel with the group, we can arrange the same great priced, full service airfare for your individual travel plans.
There are some great priced trips available for individual travelers. Call US Scuba Center for details.
Bud's Birthday and Exploring this Amazing World in the Highlands and the magnificent coral gardens. Stop in and see some pictures a beautiful destination to explore.
US Travel for 30 years has an expertise and organizational talent which is unusual in the travel industry and a knowledge of diving that is difficult to surpass. Working and booking with US Travel Center gives you the edge to travel enjoyment.
INDIVIDUAL TRAVEL ARRANGEMENTS
Listed below are a sampling of the great group trips offered through US Travel Center, your "Travel Adventure Specialists". Can't make a group trip? Call and we can help you plan your Individual Adventure. The hotels and diving operations that we work with will take great care of you. A sampling of those great locations include: All destinations in the Caribbean, South Pacific, Galapagos, Australia, Micronesia, Indonesia, Africa, Europe, Canada and of course, the USA.
Divi Resorts; Reef Diver Resort in the Caymans; Little Cayman Beach Resort; Stuart Cove's; Pearl Resorts; Palau Pacific; Manta Ray Bay; Aggressor Boats; Blackbeard's and Cat Palau' Peter Hughes; Sandals Resorts; Mike Ball; US Travel books all of these plus more for individuals and groups. Call for a price or click here.
US Travel also specializes in land adventures with great travel arrangements though: Collette Tours (including home to airport transfers), Goway, Global and Brendan, Trafalgar FunJet Vacations and more.

Taking reservations now for the group trips below for 2017 - 2018, be sure to register soon to avoid disappointment!
See below for inclusions.
UPCOMING TRIPS AT A GLANCE:
2018
July 12 - 16~ Sandyport Resort and Stuart Cove, Sharks and Wall Flying
September 14 - 28, 2018 S Africa Photo Safari - FULL
Nov. 3 - 11 ~ Bonaire, DIVI Flamingo Beach, register now, filling quickly ~ 8 nights
February 23 - March 2, 2019 ~ Little Cayman Beach Resort, limited space left
August 21 - September 6, 2019 ~ Indonesia and Singapore - FULL
--------------------------------------------------------------------------------------------------------------------------------------
THIS IS AMAZING DIVING.....check it out, great price, great date, great diving and great snorkeling.
DO NOT MISS THIS ONE, words cannot describe how great this is!!!!!!
________________________________________________________________________________________
SPECIAL NOTE: DO NOT BE DECEIVED BY ON-LINE PRICING BOOKING DIRECTLY WITH RESORT. YOU ARE NOT PAYING LESS, HIDDEN FEES, EXCLUSIONS, THAT ARE INLCUDED WHEN US TRAVEL BOOKS FOR YOU AND YOU HAVE THE EXPERTISE OF US TRAVEL! BOOK YOUR OWN AIRFARE IF YOU THINK YOU CAN DO BETTER BUT BE SURE TO MAKE YOUR DIVING AND HOTEL BOOKING THROUGH US TRAVEL!
STUART COVE'S
July 12 - 16, 2018
Diver: $1860.00*
So special just for you, Heather and Stuart Cove have this special package with some great diving staying at the colourful Sandyport in New Providence Island in the Bahamas. This summer 4 night trip is a great chance to use the DPV (Diver Propulsion Vehicles, do some Shark Diving and great travel companions! Only one room left.......call now for details.
Trip Includes:
Round trip airfare from Flint to Nassau
4 nights at Sandyport based on double occupancy - great location
3 days of Morning two tank boat dive
One day of dusk dive and shark feed on one of the famous Stuart Cove Shipwrecks
Another afternoon two tank boat dives including flying on the wall with the DPVs
Round trip airport transfers and transfers to Stuart Cove's diving
Optional - afternoon two tank shark dive for additional $200
US Scuba Group Leader
_________________________________________________________________________________________
NO ONE DOES BONAIRE BETTER THAN US SCUBA CENTER!
The Rumour is True - Mr. Bonaire, Tim Sellick, is back on the this trip to dive the "Jewel in the Crown of the Caribbean"
BONAIRE - FLAMINGO BEACH RESORT - 34th Anniversary Trip!
November 3 - 11, 2018 8 Wonderful nights in Bonaire!
Diver: $2,550.00* Non Diver: $2,350.00*
Departure out of FLINT, MI, in Bonaire the same day and diving by 3pm!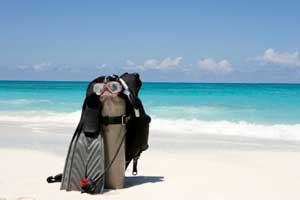 Another spectacular diving ADVENTURE TRIP!!!!!!
Back for the 34th year!
Our divers love this piece of paradise! And, we have a super special price to beat the winter blue's.
For over 40 years, the Flamingo Beach Resort has been the premier Caribbean diving destination resort delivering the spirit of snorkeling and diving adventure loved by US Scuba divers. Guests to the Flamingo Beach get the best diving in the Caribbean with crystal clear waters, sandy beaches, amazing sunsets, bountiful marine life and a resort that is the most welcoming.
Package Includes:
* Roundtrip Airfare from Flint to Bonaire on Delta Airlines
* 8 Nights Superior Oceanfront Rooms
* Round trip airport transfers on island
* Daily Breakfast and 7 dinners
* Taxes and service fees on package items
* 6 days of two tank boat diving & unlimited shore diving with tanks and weights,
* Special Group Recognition Dinner
* US Scuba Group Leaders - Bonaire Platinium and Gold Ambassadors
Bonaire - Bon Bini!
All right, twist our arms and we will confess to you our favorite diving destination in the Caribbean! If we were to poll our customers who have dived extensively throughout the Caribbean, they would probably concur . . . Bonaire is the ultimate Caribbean diving experience. From the moment you step off the plane in Bonaire and are greeted with a friendly "Bon Bini", you are about to experience an island which will enchant you. If you speak with someone who has experienced the wonders of Bonaire, they will probably tell you that this is not their first trip to this island diving and snorkeling Paradise.
Bonaire is the perfect combination of an ideal climate and calm, protected waters that allow the coral kingdom of at this tranquil island to flourish. The entire coast of Bonaire is lined with a fringe of beautiful coral reefs, which are easily accessible from shore. Well traveled divers and snorkelers consistently list Bonaire as one of the world's premier diving destinations.
Bonaire has earned this recognition because its beautiful reefs have been protected from exploitation since 1989, when with the assistance of the World Wildlife Fund, the government established one of the Caribbean's first marine parks.
Bonaire is also a naturalist's paradise, where hundreds of varieties of birds and marine life abound. A tropic-arid climate with an average temperature of 82 degrees and an annual rainfall of only 21 inches means diving 365 days a year. Bonaire's inhabitants are as warm and friendly as its climate. Island houses in pastel colors, mysterious caves with Indian drawings, ancient slave huts, and Washington National Park where hundreds of flamingos come to breed make Bonaire a delightful island to explore.
Divi Flamingo Beach Resort and Casino expresses the mood and feeling of Bonaire. The staff is warm and friendly and divers and non-divers alike find the "once is not enough, returning to this complete dive resort year after year. Overlooking the turquoise Caribbean waters, the Flamingo Beach Resort is surrounded by fifty spectacular diving and snorkeling sites.
The off-shore diving in Bonaire ranks the best in the Caribbean. Night diving just in front of
the resort on the luscious reef is arresting in its beauty. turtles, tarpon, moray eels of every type and octopus are just a few of the marine animals commonly sighted on night dives. Bonaire's perpetually calm waters provide 75 foot underwater visibility and superb opportunities to photograph hundreds of species of colorful, delicately formed marine life. Bonaire has been dubbed the "macro capital of the Caribbean" with delicate sea horses, frog fish, red banded coral shrimp, arrow crabs and numerous small invertebrates.
REGISTER NOW FOR THIS ANNUAL EVENT!
---------------------------------------------------------------------------------------------------------------------------------------
Little Cayman Beach Resort - back by popular request
Febrauary 23 - March 2, 2019 - One room left.
DIVER: $1,895.00* plus air fare based on double occupancy
Non Diver: Call for price
All right another US Scuba Special that we recently opened by popular request.
Little Cayman is intimate, beautifully maintained with exceptional dining, a sandy beach, large pool and hammocks gently swing on the beach. This is our annual return trip to dive with Little Cayman Beach Resort. Friendly Groupers, the Famous Bloody Bay Wall, great diving
Cayman diving is exceptional with world famous diving, friendly groupers and turtles, large eagle rays, sharks and magnificent coral formations.
Package Includes:
7 Nights Pool side rooms based on double occupancy
Daily breakfast and dinner
Round Trip Airport transfers on island
6 days of morning two tank boat dives including tanks and weights
Taxes on package items
And yes, a group leader from US Scuba Center
__________________________________________________________________________________________
S AFRICA PHOTO SAFARI ADVENTURE - FULL - you may still register for Wait list
September 14 - 28, 2018
2 Amazing Weeks experiencing topside safari
Call Heather for details
This spectacular trip includes:
* 4 Nights in Cape Town at the Majestic Queen Victoria, daily breakfast included
* Full day trip to the Cape of Good Hope
* Trip to the amazing vineyard of South Africa, wine tasting
* Roundtrip transfers to each lodge
* 3 Nights Mhondoro: all meals, local branded beers and hand select house wines,
two safari game drives per day
* 3 Nights Nkomazi in luxury tents including game drives and beverages per above
* 2 Nights Southern Camp Kapama, home to the Big Five, same as above included
* All Transfers
* Plus much more!
Not included, flights from the US
Call Heather for detailed information, as space is limited 248-650-9500
This is not a diving trip but a land adventure to a Classic!
_________________________________________________________________________________________
US Scuba Center is back diving Indonesia August 2019 - SORRY TRIP IS FULL including the extension to Singapore. Call to be put o Wait List!
________________________________________________________________________________________
Trip Journal: BACK on another amazing US Scuba Group Trip - August 2019 to Indonesia.
Photo by Heather Sellick - a familiar sight in Indonesia - Rhinapias Scorpions (leafy and weedy)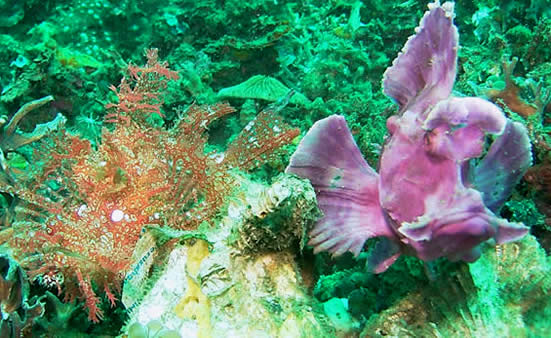 ----------------------------------------------------------------------------------------------------------------------------------------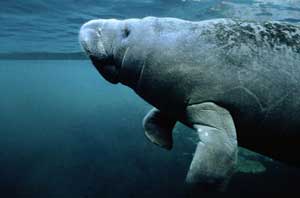 MANATEES
January 2019
DATE TBA
Your continued support of the Annual Manatee Benefit resulted in another year of supporting HUBBs and Manatee Rescue Programs!
US Scuba Center, just sent a year end
check to HSWRI for marine life
protection.
Proceeds from this trip were also donated to this wonderful marine preservation program.
---------------------------------------------------------------------------------------------------------------------------------------
* Prices Subject to Change


LUGGAGE ALLOWANCE ON AIR CARRIERS - ALERT!
A recent article in a diving publication stated that the airlines were charging additional fees for scuba gear. If your diving gear is part of your check through baggage allowance not exceeding allowed bag dimensions and weight, there is NO additional charge for scuba gear. Be sure to check with each individual carrier as to allowed check through bag dimensions and weight and at www.tsa.gov for security rules on carry on and check through bags.
Check www.tsa.gov for the latest information regarding travel with Lithium Ion Batteries as there are new regulations.
Be a conscientious diver - travel with lighter weight equipment such as the Atomic Titanium Regulator, the Atomic Cobalt Computer with world voltage charger. Make scuba travel easy & convenient - stay within the airline requirements.

US TRAVEL CENTER HOURS:
OPEN: Mondays, Thursdays, Fridays from 10am to 7pm and Saturdays from 10am - 5pm
CLOSED: TUESDAYS, WEDNESDAYS AND SUNDAYS
248-650-9500
www.usscuba.com
ustravel@sbcglobal.net