Travel ~ US Travel Center
A unique Adventure Travel Agency

BOTH ABOVE AND/ OR BELOW THE WATER:
Bonaire::Safari & Surf::North::Galapagos::Individual::Trip Updates
NEW - JUST A SAMPLING OF 2017! Be sure to call Heather and get on the list for trips that are not announced on the web site. Over half our group trips fill within several weeks of opening, so be sure to be on the call list!
NEWS FLASH ~ THANKSGIVING COMES EARLY THIS YEAR ~ BONAIRE!

Airfare Policy:

For your convenience and to help give you a better price, US Travel frequently includes your round-trip airfare on most group trips. There are a few trips where airfare is not included. We are one of the few Dive Travel Wholesale Agencies that give you a total package - no hidden prices when you book with US Travel. If you want to us frequent flyers, we can price the trip for the land and diving portion only.
Remember that . . . US Travel is a FULL SERVICE ON PREMISES ARC/ IATAN certified Travel Wholesale Agency. We are not only convenient but can offer you the best prices available through the airlines for both group and individual travel. If your schedule does not allow you to travel with the group, we can arrange the same great priced, full service airfare for your individual travel plans.
There are some great priced trips available for individual travelers. Call US Scuba Center for details.
Bud's Birthday and Exploring this Amazing World in the Highlands and the magnificent coral gardens. Stop in and see some pictures a beautiful destination to explore.
US Travel for 30 years has an expertise and organizational talent which is unusual in the travel industry and a knowledge of diving that is difficult to surpass. Working and booking with US Travel Center gives you the edge to travel enjoyment.
INDIVIDUAL TRAVEL ARRANGEMENTS
Listed below are a sampling of the great group trips offered through US Travel Center, your "Travel Adventure Specialists". Can't make a group trip? Call and we can help you plan your Individual Adventure. The hotels and diving operations that we work with will take great care of you. A sampling of those great locations include: All destinations in the Caribbean, South Pacific, Galapagos, Australia, Micronesia, Indonesia, Africa, Europe, Canada and of course, the USA.
Divi Resorts; Reef Diver Resort in the Caymans; Little Cayman Beach Resort; Stuart Cove's; Pearl Resorts; Palau Pacific; Manta Ray Bay; Aggressor Boats; Blackbeard's and Cat Palau' Peter Hughes; Sandals Resorts; Mike Ball; US Travel books all of these plus more for individuals and groups. Call for a price or click here.
US Travel also specializes in land adventures with great travel arrangements though: Collette Tours (including home to airport transfers), Goway, Global and Brendan, Trafalgar FunJet Vacations and more.

Taking reservations now for the group trips below for 2017 - 2018, be sure to register soon to avoid disappointment!
See below for inclusions.
UPCOMING TRIPS AT A GLANCE:
2017 - 2018
Little Cayman Beach Resort ~ February 4 - 11, 2017
Bonaire ~ Flamingo Beach March 31 - April 9, 2017 (overnight in Atlanta) 8 Nights in Bonaire
Chile ~ Patagonia, Atacama & Easter Island April 29- 16, 2017 - FULL!
July 7 - 11 ~ Sandyport Resort and Stuart Cove, Sharks and Wall Flying - one room left
September ~ Italy - FULL!
Nov. 11 - 19 ~ Bonaire, DIVI Flamingo Beach, register now, filling quickly ~ 8 nights
January 25 ~ February 6, 2018 ~ Socorro on board the Solmar V - half full

register early for this "Warm Water Galapagos" Special ~ Humpbacks!!!!!

April 7 - 15, 2018 ~ departure out of Flint Bishop
September 2018 ~ return to Africa, for photo safari
--------------------------------------------------------------------------------------------------------------------------------------
Little Cayman - Little Cayman Beach Resort - back by popular request
ONLY 2 Rooms left, one poolside and one oceanside
January 7 - 14 , 2017
DIVER: $1,745.00* plus air fare based on double occupancy
Non Diver: Call for price
BOOK YOUR SPACE NOW!!!!! don't be disappointed
All right another US Scuba Special that we recently opened by popular request.
Little Cayman Beach Resort is intimate, beautifully maintained with exceptional dining, buffet breakfast and dinner package included, a sandy beach, large pool and hammocks gently swing on the beach.
Little Cayman diving is exceptional with world famous Bloody Bay Wall, friendly groupers, large eagle rays, sharks and magnificent coral formations.
Package Includes:
*7 Nights Pool side rooms based on double occupancy
*Daily breakfast and dinner
*Round Trip Airport transfers on island
*6 days of morning two tank boat dives including tanks and weights
*Taxes on package items
* And yes, a group leader from US Scuba Center
* Optional afternoon one tank package including lunch available for additional fee
________________________________________________________________________________________
BONAIRE - FLAMINGO BEACH RESORT - 34th Anniversary Trip!
FULL, you missed it, but Heather can book your own Bonaire Trip, call for information!
NOVEMBER 11 - 19th, 2017 - 8 Wonderful nights in Bonaire!
Diver: $2,550.00* Non Diver: $2,350.00* NOTE REDUCED PRICE!
Departure out of Detroit Metro
APRIL 7 - 15, 2018 Same price as above! Departure out of Flint Bishop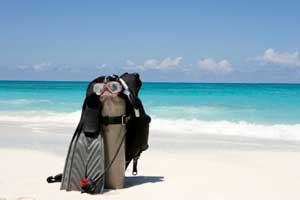 Another spectacular diving ADVENTURE TRIP!!!!!!
Back for the 32nd year!
Our divers love this piece of paradise! And, we have a super special price to beat the winter blue's.
For over 40 years, the Flamingo Beach Resort has been the premier Caribbean diving destination resort delivering the spirit of snorkeling and diving adventure loved by US Scuba divers. Guests to the Flamingo Beach get the best diving in the Caribbean with crystal clear waters, sandy beaches, amazing sunsets, bountiful marine life and a resort that is the most welcoming.
BEST AIRFARE IN 20 YEARS!
Package Includes:
* Roundtrip Airfare from Flint to Bonaire on Delta Airlines
* 8 Nights Superior Oceanfront Rooms
* Round trip airport transfers on island
* Daily Breakfast and 7 dinners
* Taxes and service fees on package items
* 6 days of two tank boat diving & unlimited shore diving with tanks and weights,
* Special Group Recognition Dinner
* US Scuba Group Leader - Bonaire Gold Ambassadors
Bonaire - Bon Bini!
All right, twist our arms and we will confess to you our favorite diving destination in the Caribbean! If we were to poll our customers who have dived extensively throughout the Caribbean, they would probably concur . . . Bonaire is the ultimate Caribbean diving experience. From the moment you step off the plane in Bonaire and are greeted with a friendly "Bon Bini", you are about to experience an island which will enchant you. If you speak with someone who has experienced the wonders of Bonaire, they will probably tell you that this is not their first trip to this island diving and snorkeling Paradise.
Bonaire is the perfect combination of an ideal climate and calm, protected waters that allow the coral kingdom of at this tranquil island to flourish. The entire coast of Bonaire is lined with a fringe of beautiful coral reefs, which are easily accessible from shore. Well traveled divers and snorkelers consistently list Bonaire as one of the world's premier diving destinations.
Bonaire has earned this recognition because its beautiful reefs have been protected from exploitation since 1989, when with the assistance of the World Wildlife Fund, the government established one of the Caribbean's first marine parks.
Bonaire is also a naturalist's paradise, where hundreds of varieties of birds and marine life abound. A tropic-arid climate with an average temperature of 82 degrees and an annual rainfall of only 21 inches means diving 365 days a year. Bonaire's inhabitants are as warm and friendly as its climate. Island houses in pastel colors, mysterious caves with Indian drawings, ancient slave huts, and Washington National Park where hundreds of flamingos come to breed make Bonaire a delightful island to explore.
Divi Flamingo Beach Resort and Casino expresses the mood and feeling of Bonaire. The staff is warm and friendly and divers and non-divers alike find the "once is not enough, returning to this complete dive resort year after year. Overlooking the turquoise Caribbean waters, the Flamingo Beach Resort is surrounded by fifty spectacular diving and snorkeling sites.
The off-shore diving in Bonaire ranks the best in the Caribbean. Night diving just in front of
the resort on the luscious reef is arresting in its beauty. turtles, tarpon, moray eels of every type and octopus are just a few of the marine animals commonly sighted on night dives. Bonaire's perpetually calm waters provide 75 foot underwater visibility and superb opportunities to photograph hundreds of species of colorful, delicately formed marine life. Bonaire has been dubbed the "macro capital of the Caribbean" with delicate sea horses, frog fish, red banded coral shrimp, arrow crabs and numerous small invertebrates.
REGISTER NOW FOR THIS ANNUAL EVENT!
---------------------------------------------------------------------------------------------------------------------------------------
CHILE ~ TOP TO BOTTOM PLUS EASTER ISLAND
You missed this one, full!
Heather can book you own Chile trip, call for information!
CHILE, THE BIG THREE: Amazing Patagonia, the Spectacular Atacama Desert & Magical Easter Island
May 1 - 16, 2017
This is the most amazing of above water trips and will be on par with our amazing Peru Trip last year.
The Explora Resorts are top ranked by Conde Nast and Leisure and Travel. Beautiful resorts ecologically blending with the environment.
The ends of the Earth is our start at Patagonia with an up close and personal view of the Mountains and Glaciers for 4 nights. The all inclusive Explora includes amazing tours and trekking and horseback riding....as adventurous or leisurely as you desire. Views you never will forget including pumas, guanacos, glaciers, etc.
Then on to the amazing and glorious Atacama Desert staying again at the amazing all inclusive Explora Resort for 4 nights. Your days are filled by the glorious poolside, horseback, off road biking, trekking through the Giant Cactus Gardens, the El Tatio Geo-Thermal Fields and the hot springs.
To top it off, three nights at the Explora Rapa Nui, voted the most beautiful resort blending with the environment. A spa, pool, all meals and alcoholic beverages and activities. Diving is available in the clearest of all waters for an additional charge. And yes, there is the opportunity to dive what is considered to be some of the best visibility waters in the world!
This is a nothing short of spectacular trip.
All three resorts are All-Inclusive, including, all meals, alcoholic and non alcoholic drinks, transfers and activities such as horse back riding, biking, hiking, etc.
A 3, 4 or 5 night pre-trip stay is available in Santiago at a beautiful boutique hotel in the center of Santiago. Enjoy a tour of the historic area, or a day trip to wine country and maybe even a cooking school in wine country.
Call Heather for more details. This is a trip for those who demand Superior accommodations and service and believe that a journey should involve total participation in cultural and exploration activities, or just rest in beautiful surroundings.
Call Heather for details - limited space available!
___________________________________________________________________________________________
STUART COVE'S BAHAMAS AND SANDYPORT
JULY 7 - 11, 2017 - Just Added and only one room left, 2 places
Diver: $1680.00
So special just for you, Heather and Stuart Cove have this special package with some great diving staying at the colourful Sandyport in New Providence Island in the Bahamas.
Trip Includes:
Round trip airfare from Detroit to Nassau
4 nights at Sandyport based on double occupancy
Full day trip to the Blue Hole for a Silky Shark feed
Box lunch on board the boat that day
Another shark dive closer to the dive operation on the return
a 4 tank boat dive day including flying on the wall with the PVDs - you and superman!
a morning two tank dive on the third day of diving
round trip airport transfers and transfers to Stuart Cove's diving
optional - night shark dive for additional $100
optional - two tank afternoon dive on third diving day for additional $90
US Scuba Group Leader
_________________________________________________________________________________________
ITALY - SEPTEMBER 2017 - Full!
12 nights in Bella Italia!
Call Heather for details
This spectacular trip includes:
* 2 Nights Lake Como
* 1 Night Verona
* 2 Nights Venice
* 2 Nights Florence
* 3 Nights Tuscany Villa
* 1 Night Roma
* Breakfast Daily
* Cooking School in Tuscany
* Wine Tasking en route to Venice
* Tours in Venice, Florence, Verona and Lake Como
* All Transfers
* Plus much more!
Call Heather for detailed information, as space is limited 248-650-9500
This is not a diving trip but a land adventure to a Classic!
_________________________________________________________________________________________
November 11 - 19, 2017 8 NIGHTS!!!!
DIVER: $2,550.00* including airfare
Non Diver:$2,350.00* including airfare
Yes, believe it or not, we would not miss November in Bonaire at the Caribbean's Jewel in the Crown - DIVI FLAMINGO BEACH!.
JUST CHECK OUT THE GREAT PRICES!!!!!!
Daily Breakfast and dinner included at the fabulous DIVI Flamingo Beach along with 6 days of two tank boat dives and 7 days of unlimited shore diving. Full inclusions listed below.
US Scuba Center has not missed a November Bonaire since 1984.
Bonaire remains US Scuba Center's favorite dive site in the Caribbean.
Divers never tire of Easter in Bonaire diving the magnificent coral gardens of this Caribbean Garden of Eden. The bountiful marine life and colorful corals are unrivaled on this island paradise.
Bonaire is known for spectacular macro photography and its tremendous variety and abundance of marine life.
Perpetually calm, crystal blue waters, so clear that you can lean over the pier and go "eye to eye" with a rainbow of marine life. This is the perfect location for divers and snorkelers alike.
The Flamingo Beach has recently undergone renovations and remains home of the best diving operation on the island. Register early as this trip fills quickly.
Package Includes:
Daily Breakfasts and Dinners
Round trip flights to BONAIRE from Detroit
8 Nights Superior Ocean Front Rooms based on double occupancy
7 days Unlimited shore diving and 12 boat dives including tanks and weights
Roundtrip airport transfers on island
Taxes and service fees on package items
Bonaire Departure Tax
Special Dinner for US Scuba Group only!
US Scuba Group Leaders
Call for children rates
"No body does Bonaire better than US Scuba Center"
US Scuba Center's 32nd Annual Trip to the Flamingo Beach Resort in Bonaire to dive the Crystal Clear Waters of the "Jewel in the Crown" of the Caribbean.
_________________________________________________________________________________________
2018
SOCORRO ON BOARD THE FAMOUS SOLMAR V - The "Warm Water Galapagos"
THIS IS AMAZING DIVING.....check it out, great price, great date, great diving and great snorkeling.
DO NOT MISS THIS ONE, words cannot describe how great this is!!!!!!
MANTAS, SHARKS, DOLPHINS, HUMPBACKS!
January 26 - February 4 , 2018. Trip is half full, so please register now so you are not disappointed and miss this trip! there are several hammerhead cleaning stations that
Yes, we have had a request in for these dates for 2 years to get the desired dates!!!!!
This is diving for those of you who like their marine life bigger than you are!
HUMPBACKS, SHARKS, MULTITUDE OF SHARKS, GIANT MANTA RAYS!!!!!
Trip starts with your first night in Cabo, then pick up to the amazing Solmar V, the most experienced liveaboard yacht in Mexico, known for one of the best crews in the diving industry.
THS REVILLAGIGEDOS ARCHIPELAGO, more commonly called Socorro Islands is located in the eastern Pacific Ocean approximately 250 miles from Cabo San Lucas. Join us for a few nights pre-trip in Cabo!
These islands are frequently compared to Galapagos and Cocos Islands because of the large animal encounters they provide.
The Revillagigedos islands consist of 4 islands ~ San Benedicto, socorro, Roco Partida and Clarion. They are simply called the Socorro Islands and are wild, remote and unpredictable, often called the Mexican Galapagos. The area is famous for up close and personal encounters with the Giant Pacific manta ray which can grow to 22 feet from wingtip to wingtip.
Due to interactions with the Manta by Solmar V, they have extensive IDs and relationships with many of them. We and they never chase or ride the mantas and allow the interaction to be initiated by the Mantas themselves and they often do just that!!!!!! The thrill of a lifetime of diving!
San Benedicto is one of the best locations in the world to experience and photograph these gentle giants. the feeling a a wild animal this large deliberately interacting with you is something you will never forget. If you liked Maldives, this Manata Experience will make the Maldives pale in comparison.
There are lots of sharks in the Revillagigedos Islands, hammerhead schools, white tips, silver tips, silkies, threshers (oooohhhh,,,wow), Galapagos and occasionally tigers. Solmar V has encountered up to 7 species of sharks on a single dive! There are several hammerhead cleaning stations that are visited on each trip, weather permitting.
Pods of wild bottlenose dolphins are encountered on a regular basis in January and February, the same time that a large population of humpback whales come to Socoroo to breed and calve.
In the last few years, the frequency of underwater encounters with humpbacks has increased dramatically and hence the reason for the timing of this special US SCUBA CENTER GROUP TRIP!
After 22 years of encountering the Solmar V, the humpbacks now recognize the vessel as a friendly, non-threatening entity and so the opportunity for underwater encounters improves.
In addition ......large tuna, wahoo, thick schools of jacks and many other big critters along with endemic tropicals found nowhere else in the world and yo have one of the BEST BIG ANIMAL DIVING ON EARTH!
Trip Journal: It was another amazing US Scuba Group Trip - April 2016 - Raja Ampat. Blue ring octopus, epaulette sharks, freight trains of Giant Manta Rays, and amazing corals
Photo by Heather Sellick - a familiar sight in Ambon and Raja Ampat - Rhinapias Scorpions (leafy and weedy)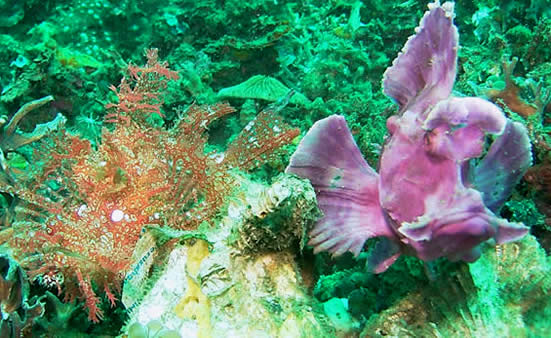 ----------------------------------------------------------------------------------------------------------------------------------------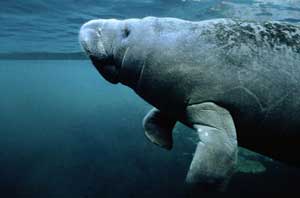 MANATEES
January 2017
Your continued support of the Annual Manatee Benefit resulted in another year of supporting HUBBs and Manatee Rescue Programs!
Proceeds from this trip were also donated to this wonderful marine preservation program.
---------------------------------------------------------------------------------------------------------------------------------------
AMAZING!!!!!! Diving the Arctic at the time of the great Northwest Migration.
Book as an individual or family through US Travel Center
This is a truly once in a lifetime spectacular trip for those who are strictly land lovers, for the snorkelers and the divers.
Heather and Bud have dove it and it is nothing short of spectacular!
It is the Arctic Great Migration Expedition. Staying in tents designed after the African Safari, heated, a main dining tent, all topside activities as included such as snorkeling with dry suits getting close and personal to the Narwhals, Belugas, Bowhead Whales, Sea Lions, Walrus. Polar Bear sightings.
Divers, all equipment is included.
Based on double occupancy: $12,000 per person plus airfare
$3,000 additional for divers - minimum of 5 divers needed
Register now as only 16 people on this private group.
AFRICA - 2018
By Request, back to Africa in 2018, late September. Trip is being planned now.
This trip, due to limited numbers fills quickly, so call or email with your name, phone number, email address and you will be put on the list. Details, normally do not make it to the web site, as we fill from the list.
If you have been to Africa with us before, you know that this is one of our clients favorite locations.
If you have not been to Africa before this is a trip that does not disappoint. It is not a diving trip, but definitely a trip of a lifetime! A travel adventure to be cherished and remembered.
* Prices Subject to Change


LUGGAGE ALLOWANCE ON AIR CARRIERS - ALERT!
A recent article in a diving publication stated that the airlines were charging additional fees for scuba gear. If your diving gear is part of your check through baggage allowance not exceeding allowed bag dimensions and weight, there is NO additional charge for scuba gear. Be sure to check with each individual carrier as to allowed check through bag dimensions and weight and at www.tsa.gov for security rules on carry on and check through bags.
Check www.tsa.gov for the latest information regarding travel with Lithium Ion Batteries as there are new regulations.
Be a conscientious diver - travel with lighter weight equipment such as the Atomic Titanium Regulator, the Atomic Cobalt Computer with world voltage charger. Make scuba travel easy & convenient - stay within the airline requirements.