Travel Log
'
2008 "Safari and Surf" Adventure
The Adventurers are back and what an amazing trip!
Sightings of all of the "Big Five"; the most spectacular view of S. Africa from "God's Window"; a warm welcome back from Djuma Game Park; a majestic trip through Swaziland; Lions at Tembe; and fantastic diving in Mozambique at the amazing Ponta Mamoli. Watch this sight for upcoming pictures.


August Bahamas Trip - Wow!
Dolphins, sharks, lobsters, shipwrecks and great corals. Another great group of divers and Open Water Students. Congratulations Open Water Divers: David and Reggie Smith, Mark and Haylee Zapczynski, and Mike Stomps.
The weather was perfect, calm seas, blue skies. The staff and rooms at the Wyndham were great!
August Tobermory Trip - Great Lakes Shipwreck Diving at its best!
Congratulations to the Advanced Open Water students who completed this prestigious class on the trip: Amanda Clark, Gil and Sarah Richard, Eric LaCoste and Kevin Garringer!
Favorite shipwrecks for the group: Sweepstakes and Niagara II!
2007 Annual Mystery Trip - Yap and Palau
Another spectacular US Scuba Center Adventure! The destination - Palau and Yap! It is always great to return to the paradise islands of Palau and Yap. Bill Acker met the group in Yap with a warm welcome and spectacular diving. The recently renovated Manta Ray Hotel is absolutely beautiful and the entire staff just as friendly and welcoming as always. Picture: right bottom of page.
Then on to the glorious soft corals and exhilarating diving in Palau. pictured below left, Bud Uren, owner of US Scuba Center explores the glorious and colorful soft corals of Palau.
Back from the Philippines: Heather and Bud just returned from the Philippines and wish to share with everyone how wonderful these beautiful islands are and how gracious and hospitable and welcoming the Philippine people were. Watch for pictures of this amazing trip. Heather can help you book an individual or group trip!
In Puerto Galera, there is Sabang Bay, hailed for its mysterious marine life. The Pier at Dauin, near Dumaguete is considered to be one of the best diving sites in the Philippines. Anilao had great seamount diving and wonderful muck diving.
"Scuba Diving in the Philippines has often been compared to skiing in Switzerland in that there is no better place in the world to take in magical underwater vistas and near-extinct forms of marine life" according to Vernie Morales, Director of the Philippine Department of Tourism in Chicago. Swimming among gorgonian butterfly fish, gigantic sponges, seafans, starfish and countless fish that are unique to the region is a special treat to divers from around the world.
"Mysterious and Amazing" are the code words for the Philippines - a center for world class divers and adventurers!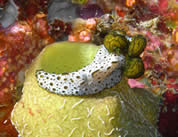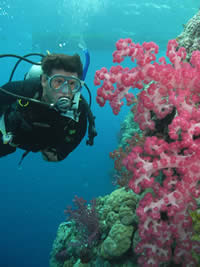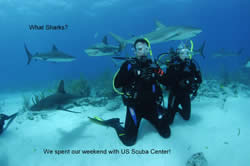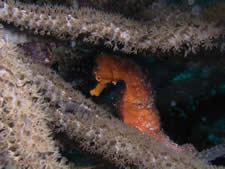 Pictured above right: Mark and Haylee Zapczynski's first dive after completion of their Open Water Certification Dives at Stuart Cove's in the Bahamas. Join US Scuba Center on the next 4 day weekend trip December 5-8!
Congratulations, Mark and Haylee
Above left: A shy sea horse greets divers on another US Scuba trip to Bonaire - Nov. 21 -29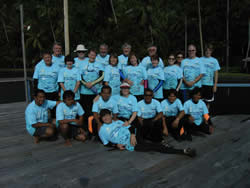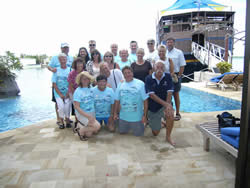 Above left: US Scuba Center Divers with the amazing Eco Diver Center staff at Kungkungan Bay Resort, Indonesia - nothing short of spectacular diving and hospitality!!!!. Register now for the 2009 Trip.
Above right, US Scuba Center Divers with our dear friend, Bill Acker, at the all new Manta Ray Resort.
Telephone: (248) 650-9500 FAX: (248) 650-9565
515 S. Rochester Road Rochester, MI. 48307
General Information:
usscuba@sbcglobal.net
Store Hours: Monday - Friday - 10:00am - 7:00pm
Saturday - 10:00am - 5:00pm