SCUBA DIVING
NOTE SPECIAL HOURS: CLOSED APRIL 27 - MAY 16, REOPEN MAY 17, NORMAL HOURS
Note that Scuba Certification is good for a lifetime, but if it has been more that two years since your last dive, you will need to take a scuba skills update (refresher).
If it has been more than 5 years since your last dive a more extensive update is required.
Call US Scuba for details about completing a refresher in our pool.
Note that the class page on Scuba Skill Updates is incorrect. We are unable to remove this error due to technical difficulties.
The program is now mandated with an on-line review affecting the price. Call for details.
Scuba Diving is an exciting sport that is both easy and fun to learn. ?
Whether you are an explorer, photographer,?adventurer, fish watcher, or nature lover, scuba diving opens up a new world of fun filled recreation for you and your family.?
Scuba diving adds new excitement to vacation travel.
Enhance your life and learn to scuba dive!
2017 Beginning Class Schedule at bottom of this page.
The most common comments we hear from students are:
Why did I wait so long to learn?
I didn't realizes how easy it was to learn!
REMEMBER: US SCUBA CENTER IS THE ONLY DIVE CENTER IN THE AREA
WITH AN IN-STORE POOL
FOR ONLY A SMALL AMOUNT MORE YOU CAN SET YOUR OWN SCHEDULE WITH PRIVATE
AND SEMI-PRIVATE CLASSES
SEE THE BELOW REGULAR CLASS SCHEDULE
85% OF OUR CUSTOMERS CHOOSE TO TAKE PRIVATE OR SEMI PRIVATE CLASSES!
TAKE YOUR CLASSES WITH A PROFESSIONAL CENTER!
CAN YOU LEARN?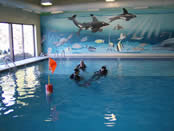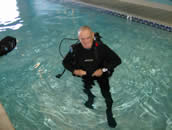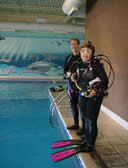 - if you are in good health
- if you have moderate swimming ability
- if you are over 12 years old (including seniors!!!)
? You can learn to dive through US SCUBA CENTER.
WHY US SCUBA CENTER?
IN - STORE POOL!
Oakland and Macomb Counties only in-store state of the art pool designed for snorkeling and scuba diving lessons
-US Scuba Center is the only training facility in Oakland and Macomb Counties with an In Store state-of-the-art pool, designed just for scuba diving and snorkeling!
?????????- Fully Certified Instructors (experienced not only in diving but in teaching).???
Our main concern is?helping you become a safe and knowledgeable diver.
???????????????????????????? - Small Classes with Personal Attention Our program is individualized.? You move at your pace and comfort level.
?????????????????????????- Platinum Facility nationally recognized and State?Licensed as a Vocational Training School by the Department of Vocational Training
- Mentor Program, US Scuba Sponsors a Mentor Program for New Divers
- Quality Educational Programs - with more pool time instruction and practice time available for students included in classes.
US SCUBA CENTER IS COMMITTED TO QUALITY TRAINING!!!?

CLASSES
US Scuba Center is the choice diving instruction center in Oakland and Macomb County with a state of the art In-Store Scuba Pool designed for scuba diving and snorkeling training! No traveling to high school pools, loading and unloading equipment.
Scuba Instruction is our Specialty and we are recognized internationally for training.
US Scuba Center offers scuba classes most weekday?evenings and on Saturdays.? The classes meet one or two?nights per week for three to five sessions including pool and?classroom training. Classroom training will teach?you the theory of safe scuba practice, while the pool?classes will teach you how to use scuba equipment?safely and comfortably.??SEE BELOW FOR CURRENT 2016 SCHEDULE.
Semi Private and Private Classes meet for three sessions. A regular class is limited to 8 students and meets for 5 sessions unless it is accelerated due to the number of students in the class.
You will learn what every diver should know:
The Basic 4 of Scuba Diving:
Proper Knowledge
Proper Skills
Proper Equipment
Proper Experience
Because US Scuba Center has a pool for instruction on premises - classes are limited to 8 students so you receive personalized attention in class.
You will need to purchase your diving quality mask, fins, snorkel and boots for class from US Scuba Center. Included in the class price, you receive a $30.00 student discount coupon towards the purchase of mask, fins, boots and snorkel when you sign up for class.? The cost of the course includes the Diver Training On Line Kit,?rental of SCUBA equipment, AND practice time in US Scuba Center's pool - designed just for diving.?
?
PRIVATE AND SEMI-PRIVATE BEGINNING CLASSES

The majority of US Scuba students take a specially designed Private or Semi-Private Course, conveniently offered in our in-store pool.
You pay a small amount more for the convenience of your own schedule and instructor!
If you can't fit into one of regularly scheduled Beginning Classes, we can?arrange for you to take lessons privately in US Scuba Center's Pool! The academic part of the course is on-line and completed in the comfort of your own home.??
The pool training is then arranged with one of?our Instructors.?
Over 80% of the classes taught at US Scuba Center are private or semi-private classes, or private group classes for:
Corporations
Scout Troops
Friends
Family
School Groups
Social Groups
Church Groups
Private classes also include your on-line student kit, rental equipment and practice in US Scuba's state of the art pool. Remember that you receive a rebate/discount toward the purchase of your state of the art mask, snorkel, fins and boots purchased at US Scuba Center.??US Scuba is the choice training center for private and semi-private instruction.
Two or three people may take these classes semi?privately for only $75 more per person than the regular Beginning Scuba Course. Text book and rental fees and practice sessions are included.? Once again you will receive a $30.00 Student Discount Coupon towards the purchase of mask, fins, boots and snorkel purchased from US Scuba's great selection.
?
SCHEDULE OF UPCOMING BEGINNING SCUBA CLASSES 2015
Dates

Day

Pool

Time

2017

Jan. 19 - 30
Monday/Thurs
US Scuba Center Pool
7 - 10 pm
Feb. 2 - 16
Monday/Thurs
US Scuba Center Pool
7 - 10 pm
Booked as Private for those with experience
Fri nite/Sat/Sun
US Scuba Center Pool

7-10pm Friday

All day Sat/Sun

March 9 - 23
Monday/Thurs
US Scuba Center Pool
7 - 10 pm
April 10 - 24
Monday/Thurs
US Scuba Center Pool
6 - 9 pm

Private Classes

YOUR SCHEDULE

US Scuba Pool
Your Times

Weekend Private Classes

YOUR CHOICE

US Scuba Pool
Your choice of times

May 17 - 24

FULL

Monday/Thurs
US Scuba Center Pool
7 - 10 pm
PRIVATE CLASS
WEEKEND CLASS
US Scuba Center Pool
FRI 7-10pm All Day on Saturday
June 15 - 29
Monday/Thurs
US Scuba Center Pool
7 - 10 pm
July 13 - 27
Monday/Thurs
US Scuba Center Pool
7 - 10 pm
Aug. 1 - 17
Monday/Thurs
US Scuba Center Pool
7 - 10 pm
Sept. TBA
Monday/Thurs
US Scuba Center Pool
7-10 pm
Nov. 17 - Dec. 1
Monday/Thurs.
US Scuba Center Pool
7-10 pm
Dec. 8 - 22
Monday/Thurs.
US Scuba Center Pool
7-10 pm
NOTE SPRING BREAK HOLIDAYS:
Closed April 1 -9
Closed April 27 - May 16
Telephone: (248) 650-9500 FAX: (248) 650-9565
515 S. Rochester Road Rochester, MI. 48307
General Information: usscuba@sbcglobal.net

Store Hours: Monday, Wednesday, Thursday & Friday - 10:00am - 7:00pm
Saturday - 10:00am - 5:00pm
CLOSED Tuesdays & Sundays
NOTE SPECIAL HOURS:
CLOSED APRIL 27 - MAY 16, REOPEN MAY 17